Arturia V Collection 7 v7.0.0-R2R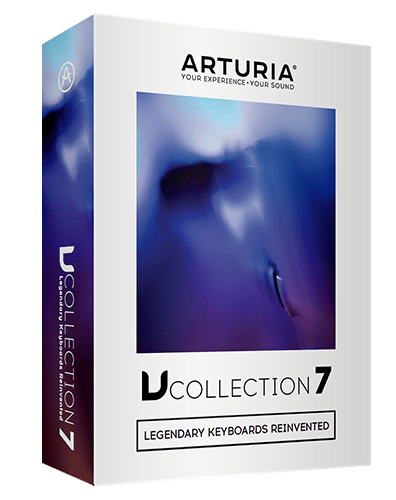 Arturia.V.Collection.7.v7.0.0-R2R | 6.54 GB
Arturia have announced the arrival of the latest edition of V Collection: their flagship anthology of reimagined historic synths and keyboards. Containing 24 software instruments and thousands of preset sounds, V Collection 7 is billed as "the must-have reference for musicians, producers, sound designers, and keyboard fans".
Legendary Keyboards Reinvented
In V Collection 7, Arturia have used modelling techniques to create accurate software versions of dozens of time-honored instruments. Their exclusive True Analog Emulation (TAE) and advanced physical modelling put these legendary instruments at your fingertips as software.
Main Features
Includes 24 software titles: Mellotron V, Synthi V, CZ V, Analog Lab, Clavinet V, CMI V, DX7 V, Buchla Easel V, Synclavier V, B-3 V, Mini V, Piano V, Stage-73 V, Matrix-12 V, Farfisa V, Solina V, SEM V, Wurli V, Jup-8 V, ARP 2600 V, CS-80 V, Prophet V, VOX Continental V, Modular V
Each virtual instrument in the V Collection can be used as a stand-alone application or as a NKS (except Analog Lab,Mellotron V, Synthi V, CZ V and B-3 V), VST, AU or AAX plug-in
High resolution graphic interfaces, compatible with very large displays
All instruments share a common interface for browsing, editing (save, import, export, ...)
Easy MIDI mapping to any keyboard controller.
In app tutorials allowing to quickly understand the instruments.
Easy install and licence manager : Arturia Software Center.
More than 8000 high-quality and innovative sound presets.
Analog Lab - All presets of the V Collection 7 can be browsed and edited from a single interface
Arturia's proprietary technologies, TAE® and Phi, ensure that each instrument sounds and behaves exactly like the original.
New in V Collection 7Mellotron V
This original instrument redefined what keyboard players could do, unlocking the doors to orchestral and choral sounds at the touch of a key.
CZ V
The budget synth that became a legend in its own right. The instrument that brought the digital synth revolution to the masses is now at your command.
Synthi V
The quirky British "silver machine" that put a new spin on modular synthesis, reborn in software with exciting new tricks up its sleeve.
Analog Lab 4
Personalize your own perfect keyboard, with thousands of amazing presets, perfect integration, effects, and a built-in live mode. Your go-to choice for inspiration.
B-3 V 2
Our recreation of Hammond's legendary organ has received a total sound engine overhaul, making it the most authentic, vibrant electric organ virtual instrument ever.
Synthopedia
800 brand new, modern sounds created for legacy V Collection instruments. The hottest synths and chart-topping keys are yours to explore.
Platform:
WiN64 - EXE/VST/VST3/AAX
Download Links:
Protected Links:
https://www.filecrypt.cc/Container/75AD961C0F.html
Password:
0dayhome.net
https://rapidgator.net/file/8939e3652813fb2fb4b41b63fbd2a4d7/Arturia.V.Collection.7.v7.0.0-R2R.part1.rar.html
https://rapidgator.net/file/957b2614e9bfee3bbbb4fd55caf60999/Arturia.V.Collection.7.v7.0.0-R2R.part2.rar.html
https://rapidgator.net/file/239b5066c0bf70bab3809429c128136a/Arturia.V.Collection.7.v7.0.0-R2R.part3.rar.html
https://rapidgator.net/file/b05b3585f66f397551ba474050f20f84/Arturia.V.Collection.7.v7.0.0-R2R.part4.rar.html
https://rapidgator.net/file/bb93fd328eba91ca5d388f29aad59d10/Arturia.V.Collection.7.v7.0.0-R2R.part5.rar.html
https://rapidgator.net/file/2f3c73edb66387f85eab518fecc6265a/Arturia.V.Collection.7.v7.0.0-R2R.part6.rar.html
https://rapidgator.net/file/b8084752fd914d339595cfe494afcdb0/Arturia.V.Collection.7.v7.0.0-R2R.part7.rar.html
https://rapidgator.net/file/687703b3964cf803a0a0986e36d29103/Arturia.V.Collection.7.v7.0.0-R2R.part8.rar.html
http://www.filefactory.com/file/5fdo3y76drut/n/Arturia.V.Collection.7.v7.0.0-R2R.part1.rar
http://www.filefactory.com/file/msow5ckrvlt/n/Arturia.V.Collection.7.v7.0.0-R2R.part2.rar
http://www.filefactory.com/file/4h53sh6rci27/n/Arturia.V.Collection.7.v7.0.0-R2R.part3.rar
http://www.filefactory.com/file/pnrlk5lgrid/n/Arturia.V.Collection.7.v7.0.0-R2R.part4.rar
http://www.filefactory.com/file/oa8gxtd80l9/n/Arturia.V.Collection.7.v7.0.0-R2R.part5.rar
http://www.filefactory.com/file/45tfyutq295x/n/Arturia.V.Collection.7.v7.0.0-R2R.part6.rar
http://www.filefactory.com/file/230ydygndhth/n/Arturia.V.Collection.7.v7.0.0-R2R.part7.rar
http://www.filefactory.com/file/49tweiqcpy3z/n/Arturia.V.Collection.7.v7.0.0-R2R.part8.rar
http://nitroflare.com/view/61D24F3C40D541C/Arturia.V.Collection.7.v7.0.0-R2R.part1.rar
http://nitroflare.com/view/79F2EC02FB89AA0/Arturia.V.Collection.7.v7.0.0-R2R.part2.rar
http://nitroflare.com/view/E8973A2FDB62519/Arturia.V.Collection.7.v7.0.0-R2R.part3.rar
http://nitroflare.com/view/81422F48D27CBC4/Arturia.V.Collection.7.v7.0.0-R2R.part4.rar
http://nitroflare.com/view/6C06BDC4B917968/Arturia.V.Collection.7.v7.0.0-R2R.part5.rar
http://nitroflare.com/view/81BA74B21CB4E62/Arturia.V.Collection.7.v7.0.0-R2R.part6.rar
http://nitroflare.com/view/BB490FF1E265154/Arturia.V.Collection.7.v7.0.0-R2R.part7.rar
http://nitroflare.com/view/73342D98B3B7D94/Arturia.V.Collection.7.v7.0.0-R2R.part8.rar
Note:
Only Registed user can add comment, view hidden links and more, please register now