Roswell The UFO Cover-up/Communion: Music From The Motion Pictures (2019)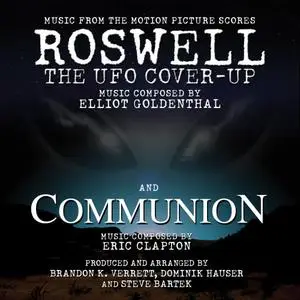 Roswell The UFO Cover-up/Communion: Music From The Motion Pictures (2019)
FLAC tracks | 40:22 | 173 Mb
Genre: Soundtrack
/
Label: BSX Records, Inc.
Brandon K. Verrett's formal musical training began at age 11. After having discovered an interest in composing while in middle and high school, Verrett continued his studies at the University of Lousiana-Monroe, where he received a Bachelor's degree in theory and composition.
He also holds a graduate certificate in Scoring For Motion Pictures And Television from the University Of Southern California. Verrett's scores have been featured in films for theatrical and television releases and have also premiered in both local and international festivals.
Track List:
01. Brandon K. Verrett - Main Title (3:13)
02. Brandon K. Verrett - Meet Again (0:52)
03. Brandon K. Verrett - Air Base (2:23)
04. Brandon K. Verrett - The Rumor Starts (0:39)
05. Brandon K. Verrett - Visit to the Ranch (2:29)
06. Brandon K. Verrett - Writing From Another World (0:40)
07. Brandon K. Verrett - A Regular Circus (1:25)
08. Brandon K. Verrett - Fort Worth (3:12)
09. Brandon K. Verrett - Scapegoat (0:41)
10. Brandon K. Verrett - Marcel Returns (2:12)
11. Brandon K. Verrett - Not Answerable Any More (1:23)
12. Brandon K. Verrett - The Last Piece (1:04)
13. Brandon K. Verrett - Second Site (0:33)
14. Brandon K. Verrett - Visit To The Mortician (0:23)
15. Brandon K. Verrett - Epilogue (2:51)
16. Dominik Hauser, Nandani Sinha - I'm Still Here (2:20)
17. Dominik Hauser, Tim Kobza - Communion Main Title (3:33)
18. Dominik Hauser, Tim Kobza - Main Theme - Short Version (0:48)
19. Dominik Hauser, Tim Kobza - Approach to White Light (1:53)
20. Dominik Hauser, Tim Kobza - Museum Scene (2:24)
21. Steve Bartek - End Title (5:25)
DOWNLOADuploadgigrapidgatornitroflare
Note:
Only Registed user can add comment, view hidden links and more, please register now