Kodaly Quartet - Beethoven: Complete String Quartets Vol. 1-9 (1993-2001)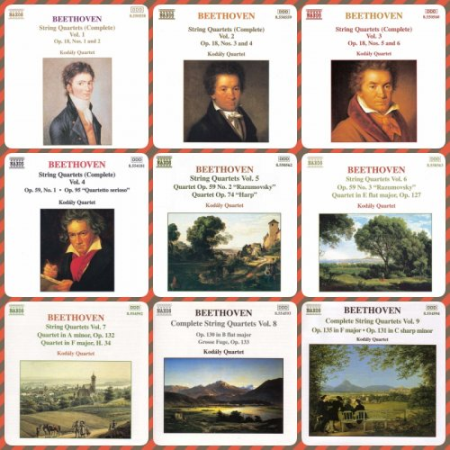 Artist: Kodaly Quartet
Title: Beethoven: Complete String Quartets Vol. 1-9
Year Of Release: 1993-2001
Label: Naxos
Genre: Classical
Quality: flac lossless +Booklet
Total : 08:49:16
Total Size: 2.34 gb
Tracklist
Beethoven: Complete String Quartets Vol. 1
01. String Quartet In F Major, Op. 18 No. 1: I. Allegro Con Brio
02. String Quartet In F Major, Op. 18 No. 1: II. Adagio Affettuoso Ed Appasionato
03. String Quartet In F Major, Op. 18 No. 1: III. Scherzo: Allegro Molto
04. String Quartet In F Major, Op. 18 No. 1: IV. Allegro
05. String Quartet In G Major, Op. 18 No. 2: I. Allegro
06. String Quartet In G Major, Op. 18 No. 2: II. Adagio Cantabile
07. String Quartet In G Major, Op. 18 No. 2: III. Scherzo: Allegro
08. String Quartet In G Major, Op. 18 No. 2: IV. Allegro Molto Quasi Presto
Beethoven: Complete String Quartets Vol. 2
01. String Quartet in D Major, Op. 18 No. 3: I. Allegro
02. String Quartet in D Major, Op. 18 No. 3: II. Andante Con Moto
03. String Quartet in D Major, Op. 18 No. 3: III. Allegro
04. String Quartet in D Major, Op. 18 No. 3: IV. Presto
05. String Quartet in C Minor, Op. 18 No. 4: I. Allegro Ma Non Tanto
06. String Quartet in C Minor, Op. 18 No. 4: II. Scherzo: Andante Scherzoso Quasi Allegretto
07. String Quartet in C Minor, Op. 18 No. 4: III. Menuetto: Allegretto
08. String Quartet in C Minor, Op. 18 No. 4: IV. Allegro
Beethoven: Complete String Quartets Vol. 3
01. String Quartet No. 5 in A major, Op. 18, No. 5: I. Allegro
02. String Quartet No. 5 in A major, Op. 18, No. 5: II. Menuetto
03. String Quartet No. 5 in A major, Op. 18, No. 5: III. Andante cantabile
04. String Quartet No. 5 in A major, Op. 18, No. 5: IV. Allegro
05. String Quartet No. 6 in B flat major, Op. 18, No. 6: I. Allegro con brio
06. String Quartet No. 6 in B flat major, Op. 18, No. 6: II. Adagio ma non troppo
07. String Quartet No. 6 in B flat major, Op. 18, No. 6: III. Scherzo: Allegro
08. String Quartet No. 6 in B flat major, Op. 18, No. 6: IV. La malinconia: Adagio - Allegretto quasi Allegro
Beethoven: Complete String Quartets Vol. 4
01. String Quartet No. 7 in F Major, Op. 59, No. 1: I. Allegro
02. String Quartet No. 7 in F Major, Op. 59, No. 1: II. Allegretto Vivace e Sempre Scherzando
03. String Quartet No. 7 in F Major, Op. 59, No. 1: III. Adagio Molto e Mesto
04. String Quartet No. 7 in F Major, Op. 59, No. 1: IV. Theme Russe: Allegro
05. String Quartet No. 11 in F Minor, Op. 95: I. Allegro Con Brio
06. String Quartet No. 11 in F Minor, Op. 95: II. Allegretto Ma Non Troppo
07. String Quartet No. 11 in F Minor, Op. 95: III. Allegro Assai Vivace Ma Serioso
08. String Quartet No. 11 in F Minor, Op. 95: IV. Larghetto Espressivo - Allegretto Agitato - Allegro
Beethoven: Complete String Quartets Vol. 5
01. String Quartet No. 8 in E Minor, Op. 59 No. 2: I. Allegro
02. String Quartet No. 8 in E Minor, Op. 59 No. 2: II. Molto adagio
03. String Quartet No. 8 in E Minor, Op. 59 No. 2: III. Allegretto
04. String Quartet No. 8 in E Minor, Op. 59 No. 2: IV. Finale: Presto
05. String Quartet No. 10 in E-Flat Major, Op. 74 "Harp": I. Poco adagio-Allegro
06. String Quartet No. 10 in E-Flat Major, Op. 74 "Harp": II. Adagio ma non troppo
07. String Quartet No. 10 in E-Flat Major, Op. 74 "Harp": III. Presto
08. String Quartet No. 10 in E-Flat Major, Op. 74 "Harp": Allegretto con variazioni
Beethoven: Complete String Quartets Vol. 6
01. String Quartet No. 9 in C Major, Op. 59, No. 3, "Rasumovsky": I. Introduzione: Andante con moto - Allegro vivace
02. String Quartet No. 9 in C Major, Op. 59, No. 3, "Rasumovsky": II. Andante con moto quasi allegretto
03. String Quartet No. 9 in C Major, Op. 59, No. 3, "Rasumovsky": III. Menuetto: Grazioso
04. String Quartet No. 9 in C Major, Op. 59, No. 3, "Rasumovsky": IV. Allegro molto
05. String Quartet No. 12 in E-Flat Major, Op. 127: I. Maestoso - Allegro teneramente
06. String Quartet No. 12 in E-Flat Major, Op. 127: II. Adagio ma non troppo e molto cantabile
07. String Quartet No. 12 in E-Flat Major, Op. 127: III. Scherzando vivace
08. String Quartet No. 12 in E-Flat Major, Op. 127: IV. Finale: Alla breve
Beethoven: Complete String Quartets Vol. 7
01. String Quartet No. 15 in A Minor, Op. 132: I. Assai sostenuto-Allegro
02. String Quartet No. 15 in A Minor, Op. 132: II. Allegro ma non tanto
03. String Quartet No. 15 in A Minor, Op. 132: III. Heiliger Dankgesang eines Genesenen an die Gottheit, in der lydischen Tonart: Molto adagio-Andante
04. String Quartet No. 15 in A Minor, Op. 132: IV. Alla marcia, assai vivace
05. String Quartet No. 15 in A Minor, Op. 132: V. Allegro appassionato
06. String Quartet in F Major, Hess 34 (arr. of Piano Sonata No. 9 in E Major, Op. 14, No. 1): I. Allegro moderato
07. String Quartet in F Major, Hess 34 (arr. of Piano Sonata No. 9 in E Major, Op. 14, No. 1): II. Allegretto
08. String Quartet in F Major, Hess 34 (arr. of Piano Sonata No. 9 in E Major, Op. 14, No. 1): III. Allegro
Beethoven: Complete String Quartets Vol. 8
01. String Quartet No. 13 in B-Flat Major, Op. 130: I. Adagio Ma Non Troppo: Allegro
02. String Quartet No. 13 in B-Flat Major, Op. 130: II. Presto
03. String Quartet No. 13 in B-Flat Major, Op. 130: III. Andante Con Moto Ma Non Troppo
04. String Quartet No. 13 in B-Flat Major, Op. 130: IV. Alla Danza Tedesca: Allegro Assai
05. String Quartet No. 13 in B-Flat Major, Op. 130: V. Cavatina: Adagio Molto Espressivo
06. String Quartet No. 13 in B-Flat Major, Op. 130: VI. Finale: Allegro
07. Grosse Fuge, for String Quartet in B-Flat Major, Op. 133
Beethoven: Complete String Quartets Vol. 9
01. String Quartet No. 16 in F Major, Op. 135: I. Allegretto
02. String Quartet No. 16 in F Major, Op. 135: II. Vivace
03. String Quartet No. 16 in F Major, Op. 135: III. Lento Assai, Cantante E Tranquillo
04. String Quartet No. 16 in F Major, Op. 135: IV. Grave Ma Non Troppo Tratto - Allegro
05. String Quartet No. 14 in C-Sharp Major, Op.131: I. Adagio Ma Non Troppo E Molto Espressivo
06. String Quartet No. 14 in C-Sharp Major, Op.131: II. Allegro Molto Vivace
07. String Quartet No. 14 in C-Sharp Major, Op.131: III. Allegro Moderato
08. String Quartet No. 14 in C-Sharp Major, Op.131: IV. Andante Ma Non Troppo E Molto Cantabile
09. String Quartet No. 14 in C-Sharp Major, Op.131: V. Presto
10. String Quartet No. 14 in C-Sharp Major, Op.131: VI. Adagio Quasi Un Poco Andante
11. String Quartet No. 14 in C-Sharp Major, Op.131: VII. Allegro
The Kodály String Quartet is one of the world's leading veteran chamber ensembles. It traces its origin to 1966 when four students at the famous Franz (Ferenc) Liszt Academy of Music in Budapest founded a student string quartet named the Sebastyan Quartet.
The new chamber organization quickly gained a reputation as something special, and in the same year it was officially recognized with a victory at the Geneva International Quartet Competition. In 1968, the Sebastyan Quartet won the 1968 Leo Weiner Quartet Competition in Budapest, named after the violinist-composer who was a major teacher in chamber music, and the main advocate responsible for the international fame of Hungarian string quartets.
The Sebastyan Quartet was awarded the "Ferenc Liszt" Award in 1970. In 1980, new first violinist Attila Falvay joined the quartet, resulting in a lineup that would remain the same for over a decade; the veterans were violinist Tamás Szabó, violist Gabor Fias, and cellist János Devich. At that the Hungarian Ministry of Culture and Education granted the quartet permission to change its name to the Kodály String Quartet, honoring Zoltán Kodály, one of the nation's greatest composers. The Kodály Quartet immediately began giving concerts in Europe, the Soviet Union, and Japan, and eventually major music centers around the world. In the 1990s, cellist Devich left the quartet and was replaced by György Éder, a veteran quartet musician and founder of the Éder String Quartet. At the turn of the millennium, Fias left, and the remaining members were joined by a new violist, János Fejérvári.
The Kodály Quartet plays the standard quartet repertory, with an emphasis on Hungarian quartets by such composers as Kodály, Dohnányi, Bartók, and other 20th century masters. It undertook a major series of recordings of Franz Joseph Haydn's quartets, for which it won the Classic CD Magazine Award for the Best Chamber Music Release of 1993 for the recording of the Op. 64 quartets. It has recorded for several labels, including Naxos, for which it is working on a cycle of the Franz Schubert string quartets.
In 1990, the Hungarian government named the group a "Merited Artist of the Hungarian Republic" and in 1996 won the Bartók-Pásztory Award named in honor of the composer's widow, Ditta Bartók-Pásztory.
ALBUM [flac] vol 1
ALBUM [flac] vol 2
ALBUM [flac] vol 3
ALBUM [flac] vol 4
ALBUM [flac] vol 5
ALBUM [flac] vol 6
ALBUM [flac] vol 7
ALBUM [flac] vol 8
ALBUM [flac] vol 9
DOWNLOADuploadgigrapidgatornitroflare
Note:
Only Registed user can add comment, view hidden links and more, please register now