Adobe FrameMaker 2019 v15.0 Multilingual-WEBiSO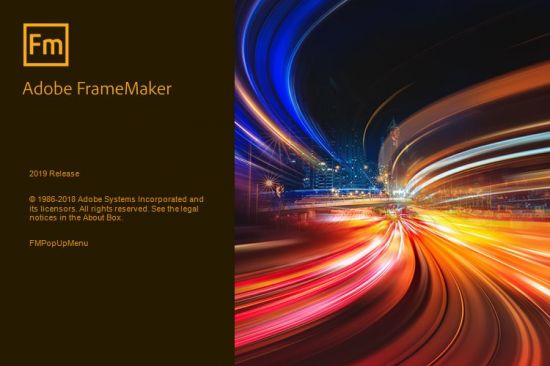 Adobe.FrameMaker.2019.v15.0.Multilingual-WEBiSO | 2.1 GB | Windows
Fast. Powerful. Future-ready. Boost performance with an all-new 64-bit FrameMaker. Create rich, immersive content with unmatched image handling capabilities. Experience faster opening and publishing of PDF and HTML5 files. Push the envelope with new capabilities built on top of the latest technologies. Get started with XML/DITA authoring with an easy-to-use workspace, productivity enhancements, and lots more.
Turbocharge your content creation
With an all-new 64-bit architecture, you can significantly boost productivity with more memory for long, complex documents. Open files up to 40% faster. Work with images like never before with support for transparency, high quality import and other striking enhancements. Open up a world of possibilities with the latest technologies, modern libraries, Duden hyphenation and spell-checking support and more.
From PDF to Responsive HTML5. Accelerate your publishing.
Publish up to 65% faster with an all-new PDF engine. Secure PDFs with a password. Have precise control over print settings such as marks and bleeds, and other output settings including DITA templates. Exceed customer expectations at every touchpoint by publishing at will – as PDF, Responsive HTML5, Mobile App, EPUB, and more.
Getting started with XML/DITA has never been easier
Harness the power of XML/DITA with a workspace designed for both beginners and experts. Quickly and smoothly handle XML files with an all-new file opening and parsing engine. Boost productivity with multiple enhancements in XML workspace, structure view, breadcrumbs and more. Specify DITA constraints while generating an EDD.
What's New in FrameMaker (2019 release):
Powerful 64-bit architecture
Significantly boost performance with an all-new 64-bit architecture. Effortlessly work on long, complex XML and non-XML documents with better memory management and a larger memory space. Publish up to 65% faster to PDF and Responsive HTML5.
Interactive real-time progress bar
Now know the status of tasks like book updates and PDF generation with information-rich, easy-to-understand progress indicators at every stage.
New image transparency support
Publish clean, stunning documents with support for image transparency to blend text with pictures, and pictures with pictures.
Out-of-the-box SharePoint 2016 support
Instantly connect to Microsoft SharePoint Online or a SharePoint 2016 CMS.
Quick access to Welcome Screen
Open the Welcome Screen in a new tab via the workspaces drop-down menu to easily access templates, plug-ins, customizations, and more.
New Duden dictionary support
Get out-of-the-box support for Duden, a trusted German dictionary, for more accurate spelling and hyphenation.
Interactive HTML5 dialogs for plug-ins
Make the customer experience richer by using HTML5, CSS3, and jаvascript to make interactive plug-in dialog boxes.
One-click image resizing
Fit an image to a frame or vice versa by simply right-clicking on the image or frame.
WebP image support
Take advantage of Google's modern WebP image format. It allows you to use high-quality visuals that load faster thanks to a smaller file size (compared to JPEG or PNG).
More control over PDFs
Have more control over print settings like marks and bleeds and other PDF output settings across documents and projects.
Password-protected PDFs
Prevent unauthorized access by setting passwords for PDFs directly while publishing.
Effortless EDD creation
Generate an EDD using the easy-to-use rich HTML user interface, with the ability to specify DITA constraints. Customize the default RNGs for DITA 1.3.
DITA OT 3.0 support
Leverage out-of-the-box support for DITA OT 3.0 to seamlessly publish content in various formats, including PDF, HTML, Microsoft HTML Help (CHM), and Java Help. Use the free OASIS DITA-OT plug-in to carry out DITAVAL-based filtering while publishing.
XSLT 3.0 support
Create a variety of transformation scenarios by applying predefined or customized XSLT to XML files, and execute them using a range of JAXP-compliant processors. Define the scope of the transformation - a file, all files in a folder, DITA map, or all children of a book. XSLT 3.0 support is provided via Saxon Enterprise Edition 9.8.3, which is bundled with Adobe FrameMaker (2019 release).
Download Links:
https://rapidgator.net/file/f5c6b47a82afae8d4a574e2205d5a07e/Adobe.FrameMaker.2019.v15.0.Multilingual-WEBiSO.part1.rar.html
https://rapidgator.net/file/89b9983610f9c48f4b0e54ec20e60278/Adobe.FrameMaker.2019.v15.0.Multilingual-WEBiSO.part2.rar.html
https://rapidgator.net/file/9634f26018e51afc879392ba18d0a8b0/Adobe.FrameMaker.2019.v15.0.Multilingual-WEBiSO.part3.rar.html
https://rapidgator.net/file/1210d544208da1fc3d384d4a77bebcb4/Adobe.FrameMaker.2019.v15.0.Multilingual-WEBiSO.part4.rar.html
https://rapidgator.net/file/bc98e8546e23726041d097ce3cebe9f5/Adobe.FrameMaker.2019.v15.0.Multilingual-WEBiSO.part5.rar.html
http://www.filefactory.com/file/4270bthiccxv/n/Adobe.FrameMaker.2019.v15.0.Multilingual-WEBiSO.part1.rar
http://www.filefactory.com/file/41yxg71o0ez7/n/Adobe.FrameMaker.2019.v15.0.Multilingual-WEBiSO.part2.rar
http://www.filefactory.com/file/4mh3zk46dlzb/n/Adobe.FrameMaker.2019.v15.0.Multilingual-WEBiSO.part3.rar
http://www.filefactory.com/file/2aslvf09urd5/n/Adobe.FrameMaker.2019.v15.0.Multilingual-WEBiSO.part4.rar
http://www.filefactory.com/file/4cvphhecjbdb/n/Adobe.FrameMaker.2019.v15.0.Multilingual-WEBiSO.part5.rar
http://uploadgig.com/file/download/5b41916cF2895123/Adobe.FrameMaker.2019.v15.0.Multilingual-WEBiSO.part1.rar
http://uploadgig.com/file/download/9284a81488e07d88/Adobe.FrameMaker.2019.v15.0.Multilingual-WEBiSO.part2.rar
http://uploadgig.com/file/download/88b561ccBeb685C4/Adobe.FrameMaker.2019.v15.0.Multilingual-WEBiSO.part3.rar
http://uploadgig.com/file/download/e717570F8Ff808aD/Adobe.FrameMaker.2019.v15.0.Multilingual-WEBiSO.part4.rar
http://uploadgig.com/file/download/f98F3B05b43a1C18/Adobe.FrameMaker.2019.v15.0.Multilingual-WEBiSO.part5.rar
Note:
Only Registed user can add comment, view hidden links and more, please register now