Microsoft Skype For Business Server 2019 ISO-TBE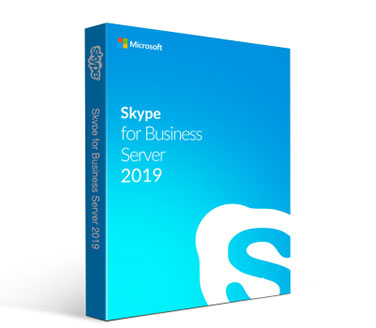 Microsoft.Skype.For.Business.Server.2019.ISO-TBE | 1.6 GB | Windows
Skype for Business Server is real-time communications server software that provides the infrastructure for enterprise instant messaging, presence, VoIP, ad hoc and structured conferences and PSTN connectivity through a third-party gateway or SIP trunk.
An installation of Skype for Business Server includes many different procedures. The procedures you need to get Skype for Business Server running in your environment depend on the specifics of your environment. For example, if you are using Windows Server for DNS, you will benefit from the example procedure for adding a DNS entry. If you use another system for DNS, you need to follow procedures for your particular DNS system. This is true for many of the procedures in this section.
Skype for Business Server is available in Standard Edition and Enterprise Edition. The main difference is that Standard Edition does not support the high availability features that are included with Enterprise Edition.
Skype for Business Server is an advanced product, and the exact installation process depends a great deal on your specific circumstances. This section walks you through the general steps to install the product. However, each procedure might be different depending on your environment and planning decisions. For example, for small organizations a single server, running Skype for Business Server Standard Edition might be appropriate, whereas a large multinational organization might have 50 servers at locations around the world dedicated to the product.
What are the Specifics?
Upgrading to Skype for Business Server 2019
In-place upgrades that were supported when upgrading to Skype for Business Server 2015 will not be supported when upgrading to Server 2019
Upgrade side by side from Lync 2013 or Skype for Business Server 2015 both supported
Prerequisites: Windows Server 2016 & SQL 2016
Will support side by side deployment with Cloud Connector Edition (CCE)
Standard Edition or Enterprise Edition?
Easy question to answer: Skype for Business Server 2019 will not include a Standard Edition server deployment option.
Wait what?
Whilst this announcement did raise a few murmurs, it will be supported to deploy Enterprise edition with a single server node. This will mean that a separate back end SQL server will be required for a single server deployment, but I think most can live with this. I think the idea here is to ensure customers in the 'smaller' end of the market look to the cloud as a viable option, rather than deploy more on-premises Standard Edition servers, whilst ensuring large enterprise customers can still leverage all that's typical of an Enterprise edition deployment.
Cloud Services for On-Premises Users
This is probably the most useful & important announcement. When deployed in a hybrid topology (which is not a requirement by the way, Skype for Business Server 2019 can be deployed on-premises only), on-premises users will be able to leverage the same apps that cloud users do. For example, Cloud PBX users use Azure VM instead of Exchange Unified Messaging for voicemail support, as well as cloud based Call Queues and Auto Attendants. With SfB Server 2019, on-premises users will be able to leverage these also.
What else?
SfB Server 2019 will be based on a version of the cloud based code of Skype for Business Online
Backwards compatibility with UCWA/UCMA will be included, ensuring smooth transition for customers using custom developed applications, 3rd party add ons
Whilst a single Enterprise edition server can be deployed, the focus for SMBs will be to utilise Office 365 where possible
No more Silverlight! Will be deprecated
Hybrid aware Office 365 Portal for server 2019, simplifying user management across Skype for Business On-Premises/Online/Teams
Improved interoperability/migration to Teams
Director server role to be deprecated
Call Analytics and Retention in one portal for all users – IT Pro experience for all troubleshooting, service management metrics, combined single view of what's going on across all users regardless of where they are: Teams, SfB On-Prem, SfB Online
Hybrid Modern Authentication support for all users regardless of location
Hybrid will ensure interop between SfB online and Teams with migration paths to move to Teams
Cloud Connector edition not going away, will be able to coexist with Server 2019
MS working on direct gateway to online (Teams) without the need for server components – i.e. no CCE, direct trunk to Teams
TLS 1.0/1.1 will be deprecated in 2019, working on it for server 2015 also, targeted for CU7 in 2015
New web meeting experience being developed with WebRTC support
SBA support with SfB server 2019: will support coexistence with SfB server 2015 SBAs.
Using SBAs with the cloud? Not on the immediate roadmap. The guidance (both formal and informal) here from Microsoft for a period of time has been to utilise network level redundancy/resiliency rather than build out large SBA networks.
All rather exciting. Stay tuned for further updates throughout the week.
Download Links:
https://rapidgator.net/file/008746bd7d76a254b006234fde14f14a/Microsoft.Skype.For.Business.Server.2019.ISO-TBE.part1.rar.html
https://rapidgator.net/file/e53e3eef726be4c8cfcccccf35359135/Microsoft.Skype.For.Business.Server.2019.ISO-TBE.part2.rar.html
https://rapidgator.net/file/d9deb497dff97037070c395b1efcab16/Microsoft.Skype.For.Business.Server.2019.ISO-TBE.part3.rar.html
https://rapidgator.net/file/80e21c65783fc70955fd87f307106d00/Microsoft.Skype.For.Business.Server.2019.ISO-TBE.part4.rar.html
http://www.filefactory.com/file/1a74fo1dmqcv/n/Microsoft.Skype.For.Business.Server.2019.ISO-TBE.part1.rar
http://www.filefactory.com/file/gpdsrd2t2ub/n/Microsoft.Skype.For.Business.Server.2019.ISO-TBE.part2.rar
http://www.filefactory.com/file/5whxjds7sysh/n/Microsoft.Skype.For.Business.Server.2019.ISO-TBE.part3.rar
http://www.filefactory.com/file/2i8zc2631bxf/n/Microsoft.Skype.For.Business.Server.2019.ISO-TBE.part4.rar
http://uploadgig.com/file/download/a966653aEa8a1c18/Microsoft.Skype.For.Business.Server.2019.ISO-TBE.part1.rar
http://uploadgig.com/file/download/3aA7513313ef9Edf/Microsoft.Skype.For.Business.Server.2019.ISO-TBE.part2.rar
http://uploadgig.com/file/download/a365ed3B09573016/Microsoft.Skype.For.Business.Server.2019.ISO-TBE.part3.rar
http://uploadgig.com/file/download/7ba9D9cB41136fdE/Microsoft.Skype.For.Business.Server.2019.ISO-TBE.part4.rar
Note:
Only Registed user can add comment, view hidden links and more, please register now