Ashampoo Movie Studio Pro 3.0.1 + patch
Release Name: Ashampoo Movie Studio Pro 3.0.1 + patch | Size: 434 MB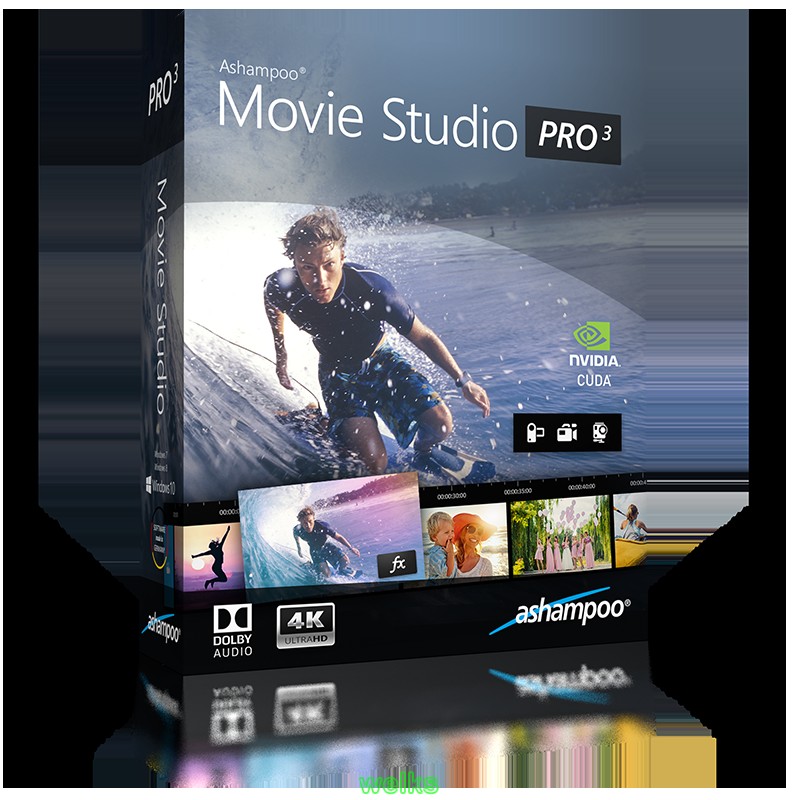 Ashampoo Movie Studio Pro - offers the professional video editing with Dolby digital, 4K and high speed conversion. It lets you easily create high resolution videos with cuts, individual fade-ins and effects! Due to 4K in maximum resolution, Dolby 5.1 and high-speed conversion.Ashampoo MovieStudio Pro is the optimal choice for creating and editing videos. Create videos optimized for iPad, android-based mobiles and many other devices. Utilize new templates, intelligent cutting techniques and new new photo effects - and your videos will become an event! By using your NVIDIA card, calculations are accelerated to the max! Ashampoo Movie Studio Pro is instantly usable by experts and novices alike and covers all aspects of video editing and optimization.
Features
• Video cutting with multi-track support
• New simple and expert modes with enhanced usability
• Fast movie encoding with GPU support
• Easy video conversion into various formats also for mobile devices
• Apply new music and adjust volumes
• Professional overlays and transitions
Numerous new editing features
• Special videos thrive on dynamic cuts and effective elements. Brightness and contrast optimizations alone can significantly improve recordings. Additional features such as opening and closing credits, text overlays and subtitles make movies more personal and memorable. Users can also cancel out wind and other background noise or apply new music tracks to create that perfect audio experience.
Fast conversion with NVIDIA NVEnc technology
• Modern graphics cards come with powerful processors (GPU) that can speed up conversion tasks significantly. The newly developed NvEnc technology accelerates video encoding by up to 400% for notable time-savings.
4K for your videos
• HD has been the status quo for high resolution videos for a long time. But 4K now offers four times the pixels and unparalleled sharpness. The new Ashampoo Movie Studio Pro 2 creates videos with 4K resolution that meet the highest quality standards.
Precision editing on three video tracks
• Maximum clarity and precision were key objectives for the new cutting tool. Having three separate tracks allows users to work on different movie segments simultaneously to realize even complex projects with ease.
Cut scenes with pixel precision and remove unwanted ads.
• Add music and sound effects to individual scenes and apply effects such as Sepia or Old Movie for more atmospheric depth.
• Burn DVDs and Blu-ray discs right from within the application. The burning engine is based on the top-selling Ashampoo Burning Studio. Naturally, you can also save your movies as traditional video files.
Video Editing:
• NEW Enhanced video cutting with multiple tracks
• NEW Faster encoding by using NVidia graphic cards
• NEW Clips in 4K maximum resolution
• NEW Export templates for many devices (iPad, Android, etc.)
• NEW Simple and expert modes
• NEW Extract single shots from videos
• NEW Smart element snapping for easy alignment
• NEW Automatic system shutdown after movie completion
• NEW Drag & drop file adding
• IMPROVED More stunning themes
• Built-in video converter
• Use animated themes
• Turn your photos into movies
• Add transitions between video clips
• Trim videos
• Create elegant opening/closing credits with built-in themes
How to Install:
1). Instructions are included in ReadMe.txt if needed.
2). Thats all, Done & enjoy.
https://rapidgator.net/file/bb0c8dbc7a4ea527961bf4e8f371cac8/A5h4mp00_M0v13_Stud10_Pr0_3.0.1_p4tch.rar
No Password | Single ExtractionEnjoy!
Note:
Only Registed user can add comment, view hidden links and more, please register now