Chaos Group V-Ray Next, Update 1.1 (Build 4.12.02) for Autodesk Maya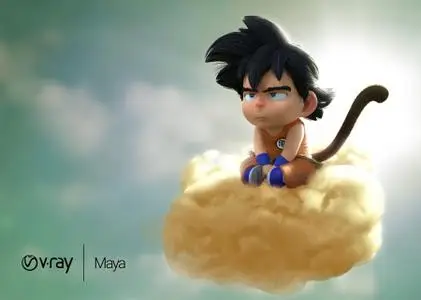 Chaos Group V-Ray Next, Update 1.1 (Build 4.12.02) for Autodesk Maya | 2.7 Gb
The Chaos Group team is pleased to announce the availability of V-Ray Next, Update 1.1 (build 4.12.02) for Autodesk Maya, the next generation of rendering with powerful V-Ray Scene Intelligence, fully redesigned IPR, and 2X faster GPU production rendering, V-Ray Next is smarter, faster, and more powerful than ever.
- SamplerInfo: Added a random by scene name mode to the sampler info additional outputs;
- V-Ray Better sampling with few lights in the scene;
- V-Ray Texture filename will be printed if a tile fails to load for tiled textures;
- VRayProxy Faster loading of VRayMesh nodes in bounding box mode;
- VRayProxy Increased the size of VRayMeshMaterial's shaders list control;
- VRayProxy Ability to change visibility for multiple selected objects in the VRayMesh visibility lists;
- Cryptomatte/VRayProxy Fixed wrong manifest in Sub object name mode;
- V-Ray IPR Optimized defaults for CPU IPR;
- V-Ray IPR Fixed wrong first frame when playblasting;
- VRayHairMtl Fixed VRayHairMtl not composing back properly with consistent elements enabled;
- V-Ray IPR Fixed sampling artifacts with few lights in the scene;
- VRayEnvironmentFog Fixed environment fog not composing back properly with consistent elements enabled;
- VRayEnvironmentFog Fixed incorrect lighting with Environment fog and V-Ray Light Linker;
- Cryptomatte Fixed AA on multi-material objects when using material mode;
- Cryptomatte Fixed wrong Cryptomatte channel name when using DWA compression;
- XGen Fixed XGen not working on macOS when V-Ray is loaded before the XGen plugin;
- V-Ray Fixed a crash when closing Maya on macOS High Sierra;
- Chaos Cloud Fixed cloud button not working on older Maya versions;
- VFB Fixed saving to EXR from the VFB not saving the whole image when rendering a region;
- VFB Fixed a crash when saving from the VFB when using V-Ray Standalone;
- VRayLightSphere Scale was ignored when transform was controlled with an expression;
- VRayFur Fixed wrong texture projection with V-Ray Fur;
- AppSDK Fixed license issue when rendering through AppSDK on Windows;
- VRayScene Fixed visibility option not being respected when in a group;
- Maya batch Fixed "-im" command-line override not working with Render Setup layers;
- VRayTriplanar Fixed Triplanar appearing in the wrong category inside the Create Menu;
- V-Ray Fixed crash when rendering zero-sized regions with Light Cache;
- Denoiser Fixed Optix denoiser error message on Linux;
- V-Ray GPU Fixed UDIM textures rendering black in IPR with on-demand mip-mapping;
the first sneak out shortly before the release of its sister product, V-Ray Next for 3ds Max.
Most of the new features in the update were previously rolled out in the 3ds Max edition, including the new 'scene intelligence' tools like automatic exposure and white balance and the new V-Ray GPU architecture.
Other features previously debuted in the 3ds Max edition include a new physically based hair shader and the integration of Nvidia's AI-based OptiX render denoising technology.
However, there are also features unique to Maya, notably VRayToonMtl, a new toon shader with advanced options like anisotropy and glossy Fresnel effects.
The update also introduces a new IPR architecture for faster feedback on complex scenes and support for animation Playblasts. The IPR now supports viewport denoising and texture isolation for shader debugging.
In addition, V-Ray Next for Maya incorporates a few GPU rendering features not yet supported in the 3ds Max edition, like bucket rendering - "coming in [future] dot releases" for Max, according to Chaos Group.
As well as the features listed above, the update adds a new metalness parameter to the standard V-Ray Material to support PBR workflows; support for layered Alembic files; and a new layered texture.
is a worldwide leader in computer graphics technology, helping artists and designers create photoreal imagery and animation for design, television, and feature films. Chaos Group specializes in physically-based rendering and simulation software used daily by top design studios, architectural firms, advertising agencies, and visual effects companies around the globe. Today, the company's research and development in cloud rendering, material scanning, and virtual reality is shaping the future of creative storytelling and digital design. Founded in 1997, Chaos Group is privately owned with offices in Sofia, Los Angeles, Baltimore, Seoul, and Tokyo.
Chaos Group V-Ray
V-Ray Next, Update 1.1 (build 4.12.02)
x64
english
PC
Windows 7even SP1 or newer
Autodesk Maya 2016 -2018
2.7 Gb
DOWNLOADuploadgigrapidgatornitroflare
Note:
Only Registed user can add comment, view hidden links and more, please register now