SysTools Outlook Duplicates Remover 3.0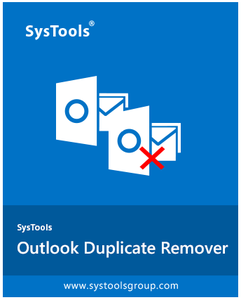 SysTools Outlook Duplicates Remover 3.0 | 7.6 Mb
SysTools Outlook Duplicates Remover is an advanced software to deal with duplicates in Outlook. It is capable to remove duplicate emails, contacts, calendars, etc., from Outlook PST file. It also allows provides an option to delete duplicates within the folder or across the folders of PST file.
Main Features:
* Deduplication of emails, contacts, calendars, journals, tasks, notes
* Options to delete duplicates within the folder and across the folder
* Locate & clean up duplicates via email fields i.e., subject, to, body, bcc, etc.
* Remove duplicate emails from multiple Outlook PST files in batch
* Capable to delete duplicates from Password Protected PST file
* Easy to filter out redundant mail items in Microsoft Outlook.
* No File Size Limitation: Supports Both ANSI & UNICODE File Types
* Make report for unique & deleted duplicate items in .csv extension.
* MS Outlook should be installed and set as the default email client
* Tool Support MS Outlook 2019 (32 / 64 bit) & all below versions
* Outlook Duplicate Item Remover supports Windows 10 (32-bit & 64-bit)
Batch Data Deduplication
The Outlook Duplicates Remover software allows you to eliminate the duplicates from multiple MS Outlook PST files at once. You can add a folder having multiple PST files in it and software will remove duplicates from each PST file as well as the folders in it.
Remove Duplicate Emails in Outlook
It is possible to cleanup the duplicates from all items within Outlook PST file. You can delete the duplicate items from emails, contacts, calendars, tasks, notes, journals. If required, you can check or uncheck the items for selective data deduplication.
Lists Files with Attributes
The software allows you to add multiple PST files at once. You can see all the listed PST files on the software interface along with its attributes like: File Name, File path, status, duplicates found and the name of item.
Show Deduplication Status
Once you add the PST files for data deduplication, it will show you the current status of each file. Now once the software starts removing duplicate items from Outlook folders, it will show you the status as complete with the number of items processed.
Create New Store Folder
While removing duplicates emails & other items from the PST file(s), you will be asked to choose a desired location. You can save the file at any desirable location and save the PST file. Also, if required; you can make a new folder to save the output files in it.
Supports Outlook 2019 & Below Version
Outlook Duplicate items remover support to the latest Outlook version. The tool clean up duplicate items from Microsoft Outlook 2019, 2016, 2013, 2010, 2007, 2003. You can upload PST file of any Outlook version, the software will remove duplicate from all of them in few clicks.
Export Duplicate Free PST File in CSV
When duplicate item removal process of Outlook completed successfully, a final report is generated by the tool. This report contain all details like source path, destination path, duplicate count, and item count. It will get auto-saved at selected destination location in CSV format. You can check the report it for any details regarding the process.
Generate Duplicate Items Report
After cleaning up duplicates from Outlook PST file, a report containing all details of duplicates is generated by the tool. This report stores information like file name, folder name, subject, and senders address. All this information is with respect to the duplicates removed by Outlook Duplicate Remover. The report will get auto-saved on the selected destination location in CSV format. You can use it for details whenever required.
System Requirements:
* 10, 8.1, 8, 7 & All Below Versions
* 100 MB of free hard disk space required
* Outlook 2000, 2003, 2007, 2010, 2013, 2016, 2019 (32 / 64 bit Versions)
* If you are using Window 10/8.1/8/7 or Vista, then please launch the tool as "Run as Administrator".
* 2 GB RAM
* 1GHz processor (2.4 GHz is recommended)
Homepage
-
https://www.systoolsgroup.com
Download link:
Links are Interchangeable - No Password - Single Extraction
Note:
Only Registed user can add comment, view hidden links and more, please register now