B&W Artisan Pro X 2021 v2.0.0 for Adobe Photoshop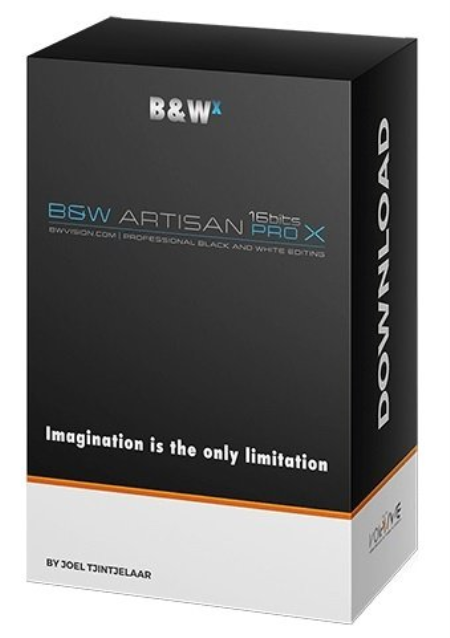 Languages: English | File Size: 3.22 MB
B&W Artisan Pro X is the latest evolution of the B&W Artisan Pro software panels and is a panel for Photoshop for pure and unrestricted B&W editing.
It is software designed by a B&W fine-art photographer, educator and highly praised expert on B&W photography, for other B&W fine-art photographers who need powerful but easy to use tools to support and express their artistic vision without any technical restrictions. The panel is designed for both bners and experienced professionals in B&W photography.
With this version X, Joel Tjintjelaar, the designer and internationally acclaimed photographer and educator, states that he has finally succeeded in automating his entire manual workflow, iSGM, into this software. A manual workflow that was developed by Joel in 2010 with the objective to completely control an image and create atmospheric and dimensional depth and has been adopted by thousands of B&W photographers ever since. Many of them have now become award-winning photographers and B&W instructors themselves. Now anyone can create the typical B&W photos that Joel is known for and have been emulated by many, with just a bit of practice with the panel. Your imagination is the only limitation.
With the introduction of version X, the importance of steps/features has changed significantly, compared to all previous versions. The now by far most important feature since version X are the 'Creating depth', 'Special FX' and 'Restore' features that unleash the power, speed, efficiency, and subtlety of linear and reflected gradients, applied in a dynamic way, and always relative to the size and position of the selected part it is applied to. What was previously considered the most important features, Advanced Adjustments, and MicroZone adjustments, are now only secondary features, intended for fine-tuning tonality and contrasts locally.
This software does what no other B&W editing software can do in an intuitive and easy way: creating dimensional and atmospheric depth using dynamic gradients and Joel's method of 'restore' to shape lighting effects with the touch of a button, with unmatched subtlety and accuracy.
Special FX is a new and unique feature to add highlights, pool or rays of light, any type of lighting effect, to objects like buildings or cars in a technically superior way. It completes and enables the concept of 'creating depth and presence' fully.
Enable accurate and subtle local darkening/lightening by carefree and form-free indicating with the lasso tool the target area to be adjusted. The adjusted area then blends in subtly and smoothly with the rest. Version X improves on the already available accuracy and subtlety by using automatic variable feathering that changes depending on the size of the selection.
The same as Advanced Smart Linear adjustment but now the local adjustments affect only a selected range of tonal values only, within the target area, to increase or decrease contrasts and textures, by using advanced 16 bits customized asymmetrical masks that work behind the scenes (no knowledge of luminosity masks is needed) for even more accurate and seamless tonal and contrast adjustments. Micro-Zone adjustments now also comes with dynamic feathering to enable even the smallest of adjustments that weren't visible previously.
An intuitive B&W editing panel, developed by award-winning photographer and educator Joel Tjintjelaar.
No need to acquire technical knowledge and years of practice in PS. This panel unlocks Joel's advanced B&W techniques, from his iSGM method, with the single click of a button, somes triggering over 100 steps in PS. The artist retains full artistic control as the presets don't have an 'artistic effect', but only cover the technical part of adjustments.
Easily add 3D depth and presence to buildings, skies, seascapes or any other object using the built-in dynamic gradients. Or add reflections or streaks of clouds to your images using the Special FX menu. With 200 new built-in functions, and with the highly customizable Special FX, anything is possible.
24 presets - Precise and fast local lightening/darkening, using automatic variable feathering (NEW with X), are enabled by quick, free-form selections with a lasso tool, and then clicking darken/lighten for subtle and seamless adjustments
154 presets - For advanced local contrast/texture adjustments, the Micro-Zone adjustments only affect the tones in the range you've selected within the target area using 16 bits advanced custom-built asymmetrical masks and dynamic feathering.
The panel has an automatic mask optimization feature that will reduce frig and halos substantially.
10 B&W conversion presets, from neutral to advanced fine-art presets that trigger over 200 signature steps in PS. Or use one of four random generator presets to give your images a unique look each and every , or just to gain some inspiration.
22 single and split-tones based on Joel's advanced toning method for unmatched subtlety. Or try out one of two new generator-presets to have a different random look. Also useful to color grade color images and acquire a cinematic look.
35 luminosity masks and 31 custom built zone masks covering the 11 tonal zones for far more isolation than regular zone masks. All in 16 bits.
- PS 2021 or higher is required for B&W Artisan Pro X 2021
- Make sure that your computer can run the latest Photoshop version.
- The panel runs language independently.
DOWNLOADuploadgigrapidgatornitroflare
Note:
Only Registed user can add comment, view hidden links and more, please register now