Bentley Microstation V8i (SELECTSeries 3) 08.11.09.578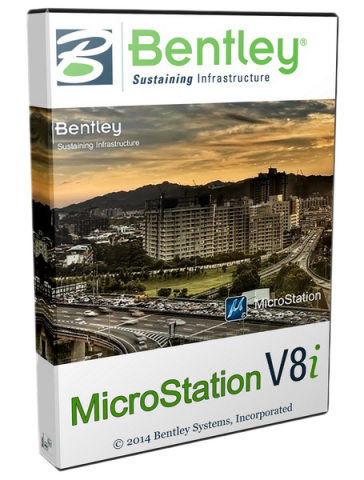 Bentley Microstation V8i (SELECTSeries 3) 08.11.09.578
x86/x64 | Language: English | File Size: 1.02 GB
MicroStation is a leading information modeling environment for the design, construction, construction and operation of all types of infrastructure, including utilities, roads, railways, bridges, buildings, telecommunications networks, water and wastewater systems, industrial plants, mining enterprises etc. MicroStation can be used as a stand-alone software application or technology platform.
When used as a software application, MicroStation turns ideas into reality. The environment provides dynamic interaction with 3D models and 2D drawings for reliable documentation in the form of accurate drawings, rich 3D PDFs and 3D diagrams. Validated data and analysis capabilities enable performance simulations with realistic rendering and engaging animations. In addition, the ability to integrate a wide range of engineering geometry objects and data from a wide variety of CAD systems and, accordingly, in various formats, allows users to seamlessly work with the entire design team.
The environment provides the following capabilities:
• Creation and interaction with 3D CAD models and 2D projects
• Modeling of collisions and work schedules using realistic rendering, animation, etc.
• Generation of accurate drawings and documentation, information-rich 3D PDF files and 3D diagrams
• Integration of a wide range of engineering geometry objects and data obtained from a wide variety of CAD systems and in various formats
How to Insall:
1. Install MicroStation V8i (SELECTseries 3).
2. Do not Launch the program.
3. Copy the file "Bentley.liclib.dll" from Crack folder to Installation directory. [C:\Program Files\Bentley\MicroStation V8i (SELECTseries)\MicroStation\]
OR [C:\Program Files (x86)\Bentley\MicroStation V8i (SELECTseries)\MicroStation\]
4. Run the program.
Fully compatble win Win 7/8 32/64 bit
Processor Intel® or AMD® processor 2.0 GHz or greater. We do not support MicroStation V8i (SELECTseries 3) on a CPU that does not support SSE2.
Memory 512 MB minimum, 2 GB recommended. More memory almost always improves performance, particularly when working with larger models.
Hard Disk 900 MB free disk space (which includes the 400 MB install footprint for a complete installation)
Video Graphics card supported by DirectX 9.0c. See the graphics card manufacturer for latest information on DirectX drivers. 256 MB of video RAM or higher is recommended. If insufficient video RAM or no graphics card supported by DirectX can be found, MicroStation attempts to use software emulation. For optimal performance, graphics display color depth should be set to 24-bit or higher. When using a color depth setting of 16-bit, some inconsistencies will be noted.
http://www.bentley.com/en-US/Products/MicroStation/
Note:
Only Registed user can add comment, view hidden links and more, please register now