TTC Video - Interpreting the 20th Century: The Struggle Over Democracy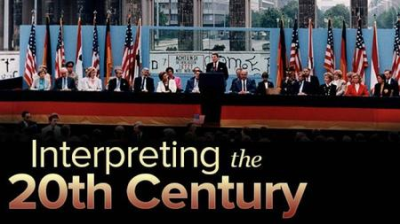 Interpreting the 20th Century: The Struggle Over Democracy
48xWEBRip | English | AVI | 640 x 480 | DX50 ~659 kbps | 29.970 fps
MP3 | 128 kbps | 48.0 KHz | 2 channels | 24:28:42 | 8.25 GB
Genre: eLearning / History, Politics
"The level of change experienced over a 100-year period is what most defines the 20th century," states Professor Pamela Radcliff.
Interpreting the 20th Century: The Struggle Over Democracy is a comprehensive 48-lecture examination of this extraordinary time.
In examining paintings by artists like Hannah Hoch or Otto Dix, or hearing the searing command of the Futurist Manifesto to "leave good sense behind us like a hideous husk," you understand the mood of an artistic world desperately trying to reject the past and steer a course toward what had to be a more promising future.
The Challenge of Defining Democracy
The main issue you address in this course, according to Professor Radcliff, is still a work in progress.
"Even after the better part of a century, the world's nations are still trying to define what real democracy is and how to establish it-not only within nations but between them as well, in the sense of fostering and sustaining relationships based on equality and not on raw power," she notes.
It is an extraordinary process that we continue to watch.
00. Professor Bio
01. Framing the 20th Century
02. The Opening Act-World War I
03. Framing the Peace-The Paris Peace Treaties
04. Intellectual Foundations-Nietzsche and Freud
05. Art and the Post-War "Crisis of Meaning"
06. Gender Crisis-The "Woman Question"
07. The Origins of "Mass Society"
08. Defining Mass Society and Its Consequences
09. Crisis of Capitalism-The Great Depression
10. Communist Ideology-From Marx to Lenin
11. The Rise of Fascism
12. Communist Revolution in Russia
13. The Totalitarian State? Nazi Germany
14. The Totalitarian State? The Soviet Union
15. China-The Legacy of Imperialism
16. The Chinese Revolution
17. India-The Legacy of Imperialism
18. India-The Road to Independence
19. Mexico-The Roots of Revolution
20. The Mexican Revolution and Its Consequences
21. Japan-The Path to Modernization
22. Japan-A New Imperial Power
23. The Pacific War
24. The European War
25. The Holocaust
26. Existentialism in Post-War Europe
27. Origins of the Cold War
28. The Cold War in American Society
29. Science and the State in Cold War America
30. The Welfare State
31. The Process of Decolonization
32. Challenges for Post-Colonial Societies
33. Competing Nationalisms-The Middle East
34. Development Models-Communist China
35. Development Models-Democratic India
36. The Authoritarian Development State-Japan
37. The Japanese Model-Available for Export?
38. Latin America-Dictatorship and Democracy
39. Hard Cases-Africa
40. An African Case Study-Nigeria
41. A Generation of Protests-Civil Rights
42. A Generation of Protests-1968
43. Global Women
44. The Rise of Fundamentalist Politics
45. Communism-From Reform to Collapse, 1956-90
46. The "End of History"?
47. Globalization and Its Challenges
48. A New World Order?
DOWNLOADuploadgigrapidgatornitroflare
Note:
Only Registed user can add comment, view hidden links and more, please register now